Good Morning Everyone,
So the other day, I called Dr. Rajani to remind them that he wanted me to get a mammogram, but I forgot about it while I was still on MP Health Insurance.  I now have my insurance through Humana.  It's interesting about that.  I now feel like an "adult" again with my own insurance and retirement funding.  I got a payment this morning added to my check book.  It is fun.  So anyway, getting back to my mammogram.  I got the doctor order and walked across the street to the NCH Imaging office expecting to make an appointment for it.  Well they could take me right away.  That was pretty cool.  Anyway, did the deed – I hate mammograms so I skipped last year.  So then yesterday, my doctor called to let me know that I needed to have a diagnostic exam and an ultra sound.  I don't think it is anything but perhaps a cyst, but they said they saw something in both breasts so that is a bit worrisome.  I'll call them today to get that done.
I have been "spiffing up" my front walkway.  I bought some cactus and river rock.  I love the look.  Here is a picture:
I need to leave now.  Will be back.
So here are a couple of other "garden" pictures:
| | |
| --- | --- |
| Garden Too | Garden 3 |
So here is a picture of the cactus that Jeff and I stole from "Freedom Park".  It has a new life!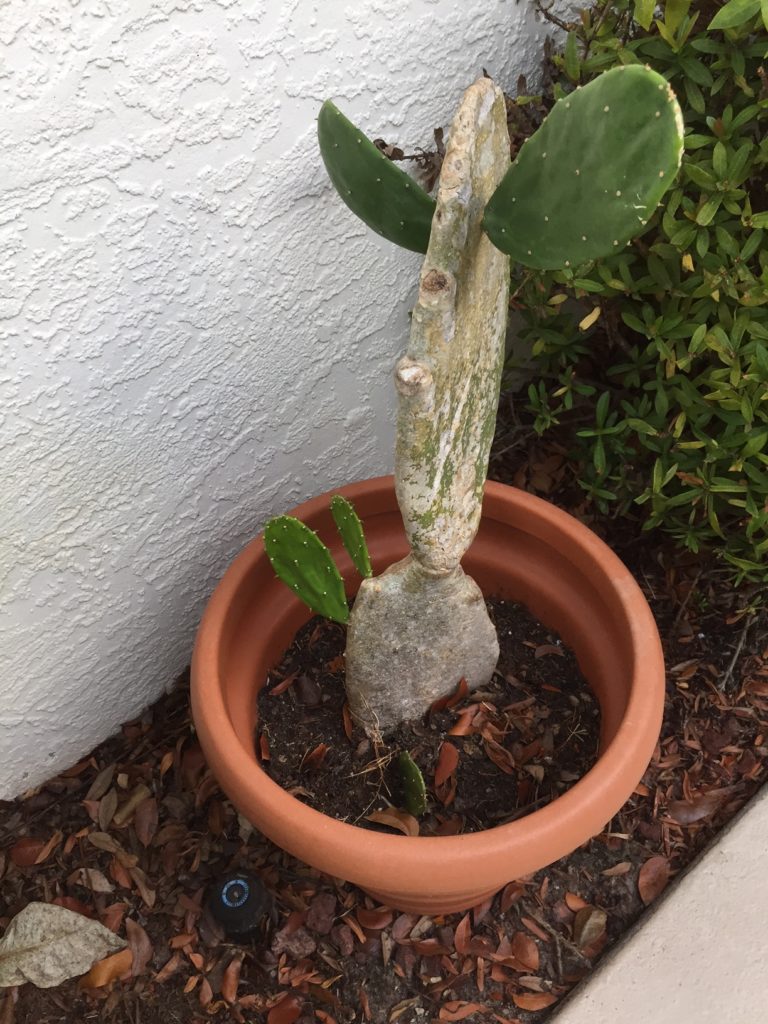 Cactus Rescued from FREEDOM PARK
Well, called the doctor to set my follow-up appointment.  Can't get in until next Wednesday.  Oh well.  Guess I'll send a prayer request to church.  Which reminds me, I need to go to a meeting tonight at church at 6.  I can get to the Naples Group by 8 if I leave at 7:15 so I'll try that.
I called the Vet Clinic and left a message for the Office Manager to call back about my application.  I would really like to have a "shot" at that job.  It would really be perfect for me.  I could still get to the 5:30 meeting at New Attitudes.  Since I'm still enjoying "spending money" it would be great to have extra money for that type of thing.  Like right now I want to pick up some "food" for the picnic on Saturday.
So I think I'll go to the beach today.  I bought a big umbrella the other day.  The weather is great and pretty soon it is going to be too hot to go to the beach.  Actually, I think I'll go later in the afternoon tomorrow.  We'll see how that goes.
While looking back at my media pictures, it occurs to me that there have been a lot of deaths recently.  First John Zeller, then Aunt Pat, then Bob Garnett and just this morning Geri Hope.  I guess that is to be expected as we enter the "twilight" of our life.  But still it is sad.  Makes me glad I decided to retire.  As I learn in AA – I should just leave it up to God so that I don't dwell on it.  So that is what I'm doing.
Oh yea, the other day Barb told me about a "new app".  It's called "Bitmoji".  You can send messages to people with it and the image can be "personalized".  This is me:
See, I have short hair and glasses.  Speaking of glasses, I have both pairs of glasses now.  My new sunglasses and regular glasses.  So I can keep the "old" pair in the house to use, which I am wearing now to read this blog better.  That is a bit of a surprise that they work like that, but I'm happy about that.
Well, I think I'll sign off for now.  Thanks for stopping by.  Come back anytime.